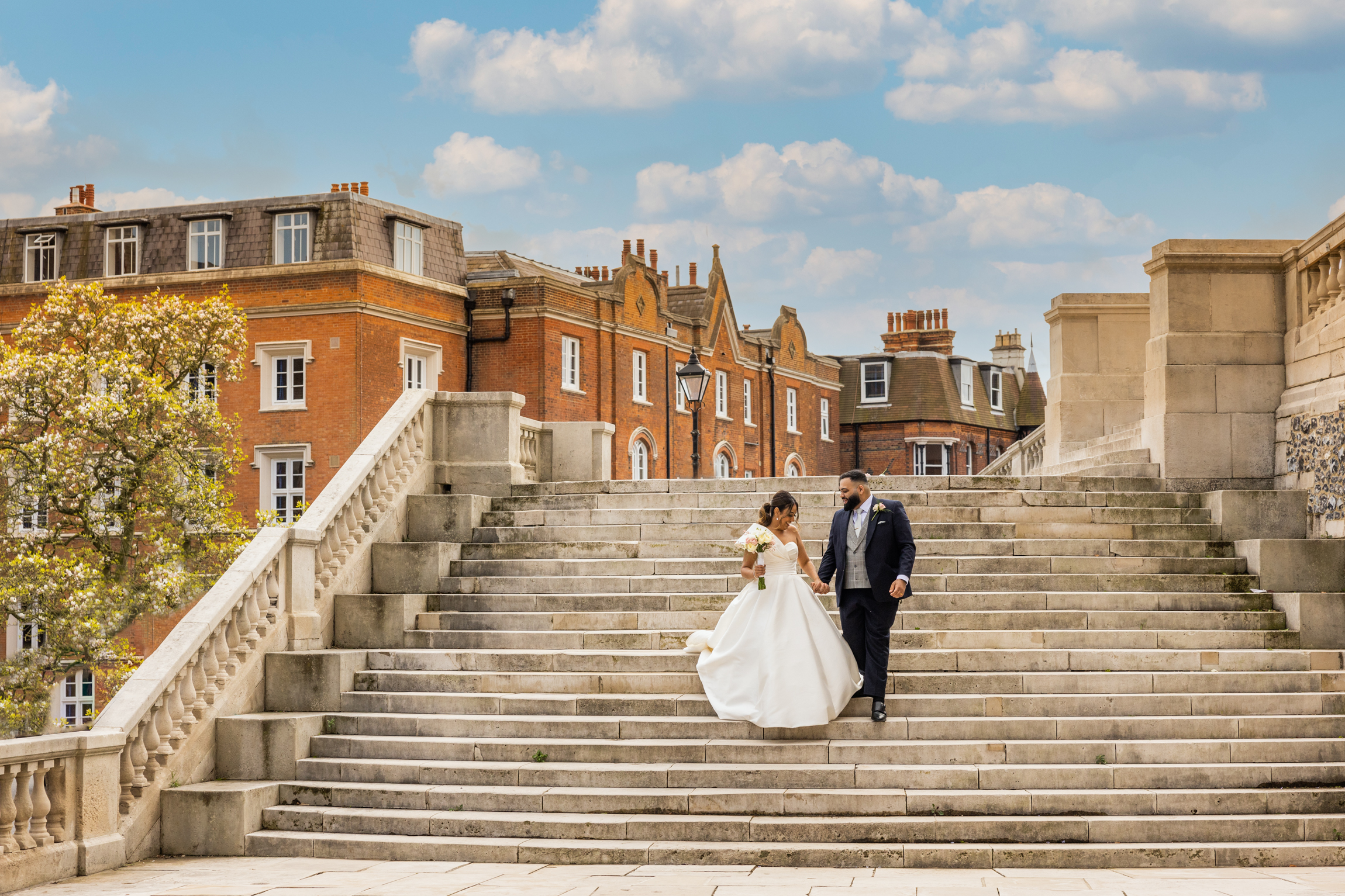 18 May

Planning A Civil Ceremony In 2022

Set across over 250 acres of picturesque landscape in North London, Harrow School provides couples a memorable venue for your special day. Whether you'd like a pre-bridal photoshoot or a full wedding planning service, our civil ceremony venues in Harrow have so much to offer. Our Events Team has extensive experience in planning and operating weddings of varying styles and sizes, from small and simplistic, to the more extravagant. Our team work closely with couples across all areas of planning your wedding day, only ever hosting one wedding a day.

What does a Civil Ceremony include? Is a Civil Ceremony The Same As a Wedding?

A civil ceremony is a legal marriage ceremony conducted by a government official. The ceremony is a non-religious occasion which can be held as an intimate event with close friends and family, or can follow with a reception which either includes a drinks reception with canapes, or a seated dining event. We have three licensed Civil Ceremony spaces at Harrow School to suit all tastes, more than any other in the Borough. You can book a visit with us to see which of our spaces will best suit your unique style and guest numbers.

How do I book a Civil Ceremony at Harrow School?

First and foremost, before making  your official wedding booking we suggest that you contact Harrow Council to confirm your Civil Ceremony timing.

www.harrow.gov.uk/births-deaths-marriages

Harrow Council have the following times available across the week for Civil Ceremonies;

Monday – Friday, 9am – 5pm

Saturdays at 1pm, 3pm and 5pm

Sundays between 11am – 5pm

The Harrow Registrars' number is 0208 863 5611 or you can email register.office@harrow.gov.uk. Please contact Harrow Council directly to arrange your civil ceremony time.

Once confirmed, please contact our team at events@harrowschool.org.uk to arrange a site visit of the venues. A member of our Events Team will take you around the most suitable venue for your date and guest size, and tell you everything you need to know to ensure the perfect wedding day.

What happens during a Civil Ceremony at Harrow School?

Harrow School weddings work to a three hour hire. Typically, our venue will open one hour prior to your civil ceremony. For instance, if you booked a 1pm ceremony, the venue doors would open for guests at 12pm. This allows over one hour and a half for guests and yourselves to enjoy the scenery with perhaps a drinks reception or private couples photoshoot until. Below you will find an example outline of the timings we work to for a wedding at Harrow School.

12pm – Doors open to wedding guests

12.30pm – Guests invited to take their seats

12.35pm – Groom meets with registrars

12.45pm – Bride arrival and meeting with registrar

1pm – Civil Ceremony begins

1.25pm – Civil Ceremony ends

1.30pm – Confetti

1.40pm – Group photos

2pm – Bride and Groom private photoshoot

3pm – Venue closes and guests depart

Which venues can I host a Civil Ceremony at Harrow School?

Harrow School currently has three civil licensed venues, varying in capacity from 5 to 550. Couples can choose to combine venues and continue their celebrations at another one of our unique locations or choose to host a civil wedding, civil partnership or ceremony only. You can have a truly unique wedding day that perfectly suits your needs. Our ceremony spaces are called:

Old Harrovian Room – for traditional, bold weddings.

Speech Room – for quirky, unique weddings.

The Field House Club – for small weddings with a view.

For more information on Harrow School's Historic wedding venues, click here.

Can you have a Civil Ceremony in your garden? 

Legally, a Civil Ceremony must be hosted within a licensed venue which means you cannot host a Civil Ceremony in your garden. You do, however, have access to Harrow School's private Chapel Terrace when booking your Civil Ceremony in one of our venues. This vast open landscape sits in front of the School's Grade II* listed Chapel, a beautiful gothic style building designed between 1854-57 by Sir George Gilbert Scott. A popular location for our wedding guests, The Chapel Terrace provides a backdrop of London's city skyline, with Wembley Stadium and The Shard within eyeshot. There are also several other beautiful outdoor spaces available to use for wedding photos, canapes and drinks when you book your Civil Ceremony with us.