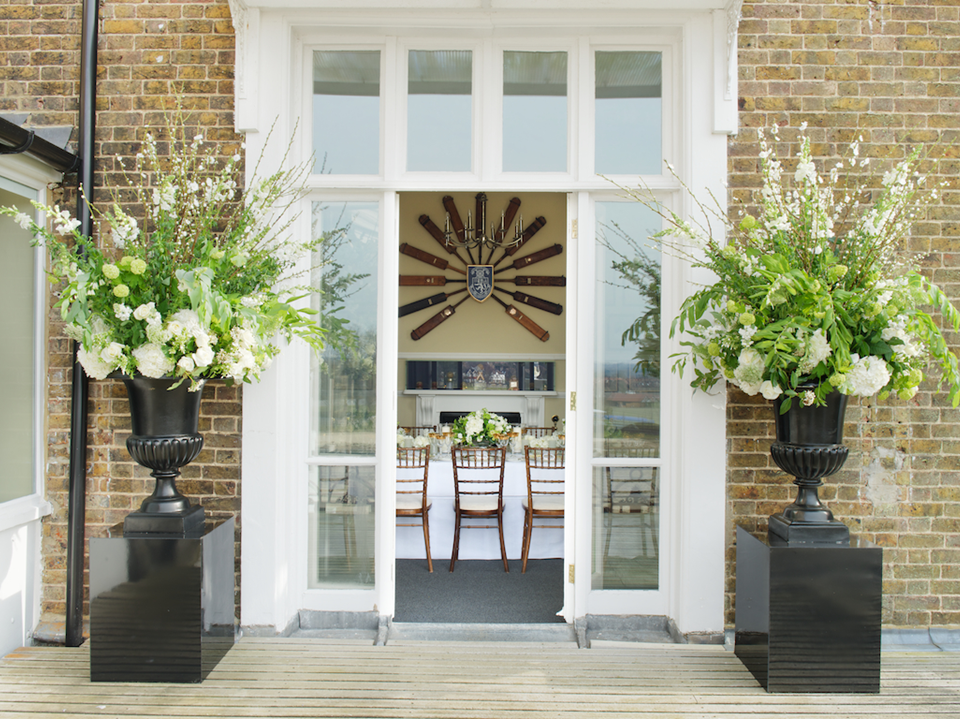 07 Mar

Get To Know Harrow School's Historic Wedding Venues

While Harrow School is well known for its prestigious title and extensive history, the 300 acre estate is home to several venues that can be transformed into remarkable spaces to host your wedding. Whether you plan to have a reception or a civil ceremony, the spaces are surprisingly versatile and have the ability to host every element of your big day, from your civil ceremony to a seated dinner, to a dance floor for you and your guests to get your feet moving.

Field House Club

The saying 'less is more' is considered particularly suitable for the intimate civil ceremonies hosted within our Field House Club. The option to have a small affair surrounded by your nearest and dearest is often more than enough and in recent years there has been a noticeable increase in the trend some have coined the 'micro wedding'. The Field House Club is Harrow School's most intimate civil ceremony space, seating 2-20 guests. Depending on numbers, your wedding ceremony will either take place within the main dining room or the lounge area to the left of the room. As you walk into the space, you will be greeted by a collection of the greats from the School's distinguished cricketing past, displayed on the walls and in surrounding cabinets as a tribute to Harrow's cricket traditions, a particularly unique feature within the space.

If hosting your wedding within a poignant historic venue isn't enough, the Field House Club is situated on the Lords Cricket Grounds, the School's first team's cricket pitch which housed the annual Harrow V Eton games dating back to 1805. Once your ceremony has finished, the newlyweds and their guests can enjoy refreshments and perhaps some canapes on the garden terrace to celebrate new beginnings, overlooking the beautiful grounds. The Field House Club is an idyllic venue for your intimate wedding, it's also a wonderful space for daytime meetings and dinner settings.

www.harrowschoolenterprises.com/wp-content/uploads/2021/08/Field-House-Club-Wedding-2021.pdf

Old Harrovian Room

If your guest list is looking like it may be slightly too large for our smaller venues, this may be the ideal space for your special day. The Old Harrovian Room is Harrow School's most popular wedding venue for civil ceremonies. Located within the School's War Memorial building, your grand entrance into the space is welcomed by two beautiful sweeping staircases leading up to the first floor. These steps meet with the entrance of the Old Harrovian Room, separated into two halves with a beautiful aisle right down the centre of the room. While the central windows offer an abundance of natural light, the surrounding walls hold the portraits of the School's former Head Masters. complimenting the magnificence of the moment with a unique backdrop.

If you were to host your civil ceremony and wedding reception in the Old Harrovian Room, the venue will be transformed into an elegant dining room with decorative touches of your choice. You and your guests can enjoy a fine dining experience through one of our accredited catering suppliers, each with unique and creative menus which will blow your guests away. As a dining room, the venue has a seated capacity of 80 guests.

www.harrowschoolenterprises.com/wp-content/uploads/2022/01/Old-Harrovian-Room-Weddings-2021-2.pdf

Speech Room

Whether you're looking for a smaller capacity wedding with a wow-factor, or you have guests travelling from all over the country and would like up to 550 guests, Speech Room is a magnificent space to hold your civil ceremony and wedding reception. Similarly to our other venues, the Globe style venue can be transformed from a seated ceremony space to a dining space and finally a dance floor. When the space isn't being used for iconic post war speeches by Winston Churchill, or hosting assemblies for the boys of Harrow School, the grand building makes for the perfect wedding venue for you and your loved ones.

www.harrowschoolenterprises.com/wp-content/uploads/2021/04/Speech-Room-Weddings-2021.pdf

For more information on Harrow School's Historic Wedding Venues, contact our friendly events team on events@harrowschool.org.uk or 020 8426 4638.