Weddings at Harrow School
Harrow School is a beautiful and unique wedding venue set across 300 acres of stunning grounds in north west London.  Offering everything from pre-bridal, proposal and engagement photoshoots to a full wedding planning service for civil ceremonies and receptions in the historic surroundings of Harrow School.
Our friendly events team has extensive experience in planning and operating civil weddings, wedding blessings and wedding receptions of varying sizes and styles, and we only ever have one wedding a day.
Harrow School has several civil licensed venues, varying in capacity from 5 to 550.
The Old Harrovian Room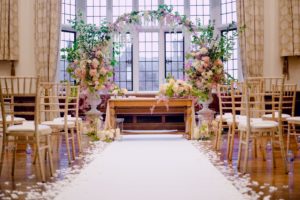 The Old Harrovian Room is located in Harrow School's War Memorial Building. To access the room guests ascend two beautiful sweeping staircases up to the first floor. This venue can seat up to 120 guests and offers couples a unique backdrop for their civil ceremony. The walls of the room are surrounded by the portraits of Harrow School's former Head Masters and natural light floods the room from the stunning windows that couples will say their vows in front of.
The Field House Club
The Field House Club is Harrow School's most intimate Civil Ceremony space seating 2-20 guests. This venue is a fully licensed club house used for the School's cricket fixtures with a main dining room, a bar area, lounge and a vast balcony overlooking the beautiful cricket grounds where you and your guests can enjoy a drinks reception.
Speech Room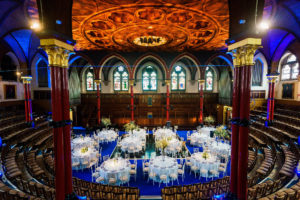 Speech Room is the main assembly hall for Harrow School. Built in 1871, it is a grand building that can be used for dramatic effect for any style of event. This stunning venue can seat up to 550 guests. Speech Room also hosts Civil Ceremonies for 120-550. Numbers in between are not 'too small' for the venue as we can suggest suitable seating arrangements for smaller ceremonies.  Speech Room is closed for renovation between March and September 2023 but is available for weddings before and after then.
Suppliers
As Harrow School is a 450 year old historic location, we only allow approved suppliers to work within our unique venues. We have a list of accredited suppliers for wedding catering, wedding floristry, event production and wedding photography under the "Our Suppliers" tab.
Please contact our friendly events team on weddings@harrowschool.org.uk or call 020 8426 4638 if you'd like to find out more.
Take a look at some weddings at Harrow School on our social media channels:
We used Harrow school's grounds for our photoshoot before our reception, the grounds are beautiful, We couldn't be happier with how the shoot went! Victoria and Milena were amazing to deal with, they responded quickly and also on the day were at hand to suggest where would be great for some beautiful images. Highly recommend for photoshoots, weddings and events 🙂 Thank you so much to the Harrow School Team for everything! Mikhail & Nikita

Dear Victoria and Milena, Words cannot describe how amazing Thursday was for Neel and I and most of it was down to you both. Thank you so much for everything! You have been amazing from the very start. Really well organised from the start, which does wonders to alleviate stress. And the on the day coordination was spot on. You took control and looked after every single detail and I know our decorator, Nisha, had nothing but high praises for you both. And the biggest thank you is for looking after me and my dress! 🙂 The photos are beautiful and the venue looked stunning. Thank you, thank you and thank you 🙂 Sona & Neel xx

We had our wedding at Harrow School at the end of July 2022. Both Victoria and Millie were great in the run up to the wedding (given we had only booked it six months in advance). They were extremely easy and efficient to communicate with and ensured the day ran as smoothly as possible. The grounds of Harrow School are beautiful!

We would like to say a massive thank you for all the parts you both have played in one of the most important days of our lives. It was a challenging time with all the tweaks and changes we had to make throughout the months. However, the day went smoothly and was beautiful. The reassurance and communication from you both was encouraging and helped us navigate the event. Despite the current times we're facing, you helped in making sure everything went to plan with your professionalism, patience and kindness throughout the planning and the day itself. You understood our concerns, questions and went above and beyond to ensure we were comfortable in all aspects.

Lauren and Victoria went above and beyond what we expected! From the off they were happy to help us in any way they could and, when we had to reschedule due to Covid, worked with the caterers to secure a new date for us, so we didn't have any unnecessary stress. Throughout the process they constantly checked in on us, to see how we were and how the planning was coming along. They were also open to questions (no matter how silly) and often suggested ideas/ compromises. For example, we were not allowed to have dancing due to Covid regulations, Lauren suggested we do quizzes and games as evening entertainment. This went down really well and prompted a fun evening. We felt like they cared about us as people and that they legitimately wanted our day to be perfect- and thanks to them it was. Many of our guests also said how lovely they were on the day! The venue was dressed to perfection, and was beyond what I could have expected. The candles up the stairs were an extra special touch! We couldn't have wanted for a better day or a better team to help us achieve our dreams.

"We were delighted with our choice of Harrow School for our wedding and reception venue. We wanted somewhere with beautiful and historic buildings and rooms with a vintage feel. The School provides many options for this along with stunning views over London and beautiful gardens and terraces. The team, led by Lauren Glynn, provided exceptional personal service throughout the whole planning process and at all points on the day. We enjoyed delicious catering by the School's in house team and the reception room was decorated beautifully. Our guests were very complimentary about their experience and we had a brilliant day with not a single hiccup. We thoroughly recommend Harrow School for weddings and parties of any size with first class, professional service. We could not have been more happy"