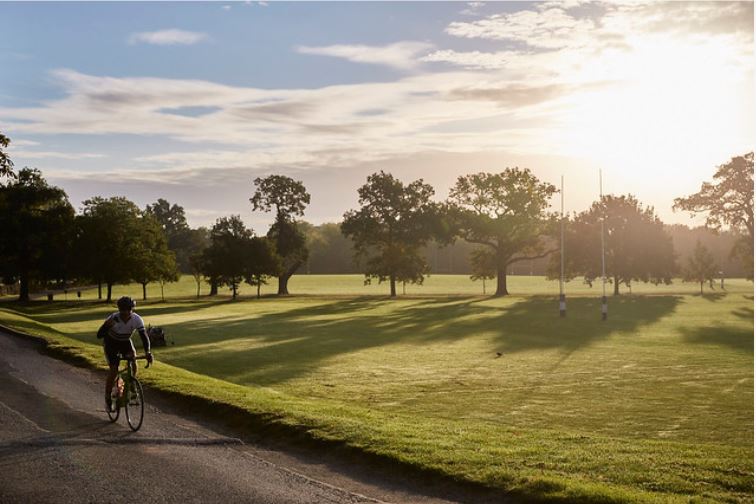 18 Feb

The Long Ducker Bike Ride 2021

Following the success of last year's Long Ducker Ride comprising the three routes of 40, 70 and 100 miles, we are pleased to confirm that (covid-19 permitting) we will be running the Long Ducker Ride event this year on Sunday 5 September 2021.

The 70 and 100 mile rides will stop at West Wycombe, the spectacular family seat of the Dashwoods.

Cyclists of all abilities are invited to take part in one of 3 fully supported rides starting and finishing at Harrow School.

Cyclist will be provided with route files and guide maps and riders will navigate themselves independently around the course.

If you are a confident rider and comfortable navigating a group around the course we would welcome you becoming a ride captain on the day.

In 2020, the Long Ducker events raised in excess of £250k. In total the Shaftesbury Enterprise, Harrow School's outreach programme, donated over £500k to great causes supporting vulnerable young people across north London, so your efforts on two wheels were very much appreciated and we look forward to the success of the next event.

Registration is now open at  www.longduckerride.co.uk. With a fair wind, vaccines and indomitable Long Ducker spirit, we look forward to celebrating in style in September.

🎖️Would your company be interested in Sponsoring the event? 🎖️Your support is enabling us to:

✔️provide nutritious meals to children at risk of hunger

✔️bridge the digital divide by providing laptops to pupils unable to access online lessons owing to a lack of resources;

✔️provide access to bespoke mental health support for vulnerable young people;

✔️provide targeted interventions to improve educational attainment for those at significant risk of being left behind;

If you are interested in becoming a corporate sponsor, please contact Lauren Williamson events@harrowschool.org.uk

Further information on the sponsorship packages can be found here. 

http://www.longduckerride.co.uk/
Charity Goals
The main charity recipient this year will again be Young Harrow Foundation. The funds raised from last year's Bike Ride enabled the implementation of a robust programme for people facing the greatest challenges, which have been intensified by the pandemic, and significantly improved the life chances of some of our most marginalised and vulnerable young people. Together, Long Ducker and the Long Ducker Bike Ride has raised and disbursed nearly £250,000 in support of over 1,500 young people across Harrow and NW London. By the end of the year, with match funding, the total raised and given away will be close to half a million pounds. With the upcoming Bike Ride it is hoped that even more will be raised for Young Harrow Foundation, the Harrow Club and other young people's charities in 2021!
'The partnership we have developed with Harrow School grows from strength to strength and brings increasing benefits to YHF member organisations, a range of small and medium locally based charities working directly with chttps://www.longduckerride.co…. and young people in Harrow. We have more than doubled the number of organisations accessing funding.'
Dan Burke, CEO, Young Harrow Foundation (YHF)
'The contribution through the Long Ducker has been extraordinary and has helped us both directly and indirectly to launch new initiatives such as a programme for young people with behavioural issues who would otherwise be excluded from school. Among other vital projects, we are helping young people who don't have access to laptops at home so that they can access online schooling. We have been able to secure over 100 laptops, which we are making available to the neediest.'
Philippe Chappatte, Chair of Trustees, Harrow Club
'Harrow School has continued to provide unwavering, dedicated support for our unpaid carers and charities' work throughout the pandemic. The School has recently funded a programme of activities supporting our young carers with improved educational attainment, life chances, personal wellbeing and resilience.'
Colin Powell, Operations Manager, Harrow Carers
To donate or support a rider in the event please click on the link below or contact us for help setting up your own fundraising page
Registering Teams and FREE entry for Under 18's
The registration platform allows for teams of ADULTS (over 18's) to register in groups of 6, 8 or 10.
If you are riding with an Under 18 year old rider, then register as an INDIVIDUAL on whichever distance you choose (you can add other ADULT riders at this stage press+) and add the Under 18 rider to your group. This ensures the Under 18 rider rides for FREE.