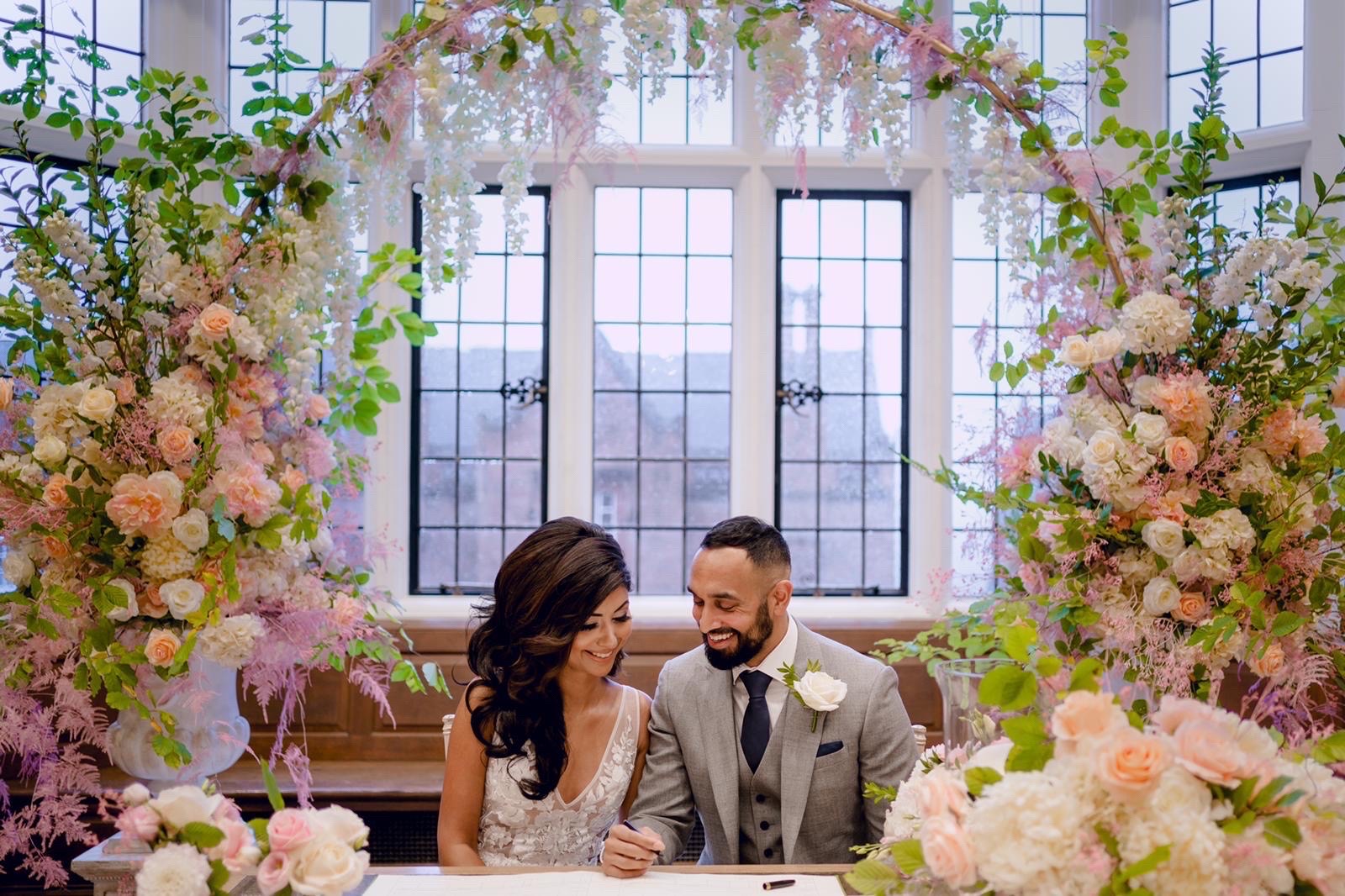 12 Nov

Hosting a wedding during the coronavirus pandemic. Here is what our couples had to say…

The Coronavirus pandemic has caused distress for couples all over the world. From reduced guest sizes, to the banning of receptions, live music and dancing, brides and grooms to be have had to sacrifice so many important details from their special day. 

Over the past 9 months wedding planners and event venues have had to assist couples in adapting their original plans to fit ongoing government guidelines. For many, they had dreamed of a wedding day that would be far from their actual experience however, the wedding industry ensured that while their couple's weddings might look a little different, it would still be one of the best and most memorable days of their lives.

It goes without saying that we did face numerous challenges along the way. How can venues create wedding appropriate PPE stations and signage? How can you ensure the guests have a fantastic time whilst remaining safe and maintaining social distancing? Was our list of accredited caterers still going to be able to design equally amazing menus for only 15 guests? 

The events team at Harrow School have worked hard throughout the pandemic ensuring that their wedding couples were still able to have the most wonderful day. The experience has been like nothing before, who would have thought that in 2020 we would be designing bridal-chic face masks and incorporating interactive quizzes instead of partying the night away! 

We have been lucky enough to host a handful of special civil ceremonies over the past few months. This blog post will share the testimonials from four of our 'Covid couples.' Here is what they had to say about their experience of getting married at Harrow School during a global pandemic. 

Shivali and Sinthujan
Thank you to Lauren, Victoria and everyone involved at Harrow School, for a day that Sinthujan and I will never forget. We've been together 10 years, so this day was something we have waited, saved and planned for a long time! So, when things took a turn due to the pandemic, it was an emotional time to say the least. But, the thing that really kept me going – was undoubtedly the support, empathy, flexibility and hard-work of the team at Harrow School. 

I was met with nothing but understanding throughout the process of having to change the date of our civil ceremony at Harrow and reduce my numbers to just 24 guests. During these incredibly uncertain times, Harrow School made sure one thing was for certain – and that was giving us exceptional day, that meant the absolute world to us. In the end, though not what we had originally imagined the ceremony was still everything I had hoped for, and I cannot thank everyone enough. 

Swati and Hinesh
We would like to say a massive thank you for all the parts you both have played in one of the most important days of our lives. It was a challenging time with all the tweaks and changes we had to make throughout the months. However, the day went smoothly and was beautiful. The reassurance and communication from you both was encouraging and helped us navigate the event.  

Despite the current times we're facing, you helped in making sure everything went to plan with your professionalism, patience and kindness throughout the planning and the day itself. You understood our concerns, questions and went above and beyond to ensure we were comfortable in all aspects. 

Amy and Robert 
Lauren and Victoria went above and beyond what we expected! From the off they were happy to help us in any way they could and, when we had to reschedule due to Covid, worked with the caterers to secure a new date for us, so we didn't have any unnecessary stress.  

Throughout the process they constantly checked in on us, to see how we were and how the planning was coming along. They were also open to questions (no matter how silly) and often suggested ideas/ compromises. For example, we were not allowed to have dancing due to Covid regulations, Lauren suggested we do quizzes and games as evening entertainment. This went down really well and prompted a fun evening.  

We felt like they cared about us as people and that they legitimately wanted our day to be perfect- and thanks to them it was. Many of our guests also said how lovely they were on the day!  

The venue was dressed to perfection and was beyond what I could have expected. The candles up the stairs were an extra special touch! We couldn't have wanted for a better day or a better team to help us achieve our dreams.

Suji and Raj
THANK YOU both so much for your help during our wedding on Saturday 31/10/20. 

You both were fab at making the day run so smoothly and accommodating us with our requests where possible. I appreciate your prompt responses to my numerous emails and always keeping me calm throughout it all. 

Despite the challenge of covid & the rain on the day, we had THE most beautiful event come together with your help.  

THANK YOU Lauren & Victoria – you guys are AMAZING! Cannot recommend you guys enough & also the Harrow School is such a stunning venue! 

I am so glad we managed to squeeze the wedding in before lockdown!!

Thank you to the four couples who were kind enough to share such wonderful feedback following their civil weddings at Harrow School. Our events team will continue to work in line with government guidelines and are remaining as flexible as possible when it comes to planning your upcoming events. Our client contracts have been updated to reflect the current situation and we are more than happy for couples to postpone dates, should their wedding be affected or not be able to take place due to covid. 

We do still have availability for weddings in 2021, to enquire today please email weddings@harrowschool.org.uk and one of our team will get back to you.