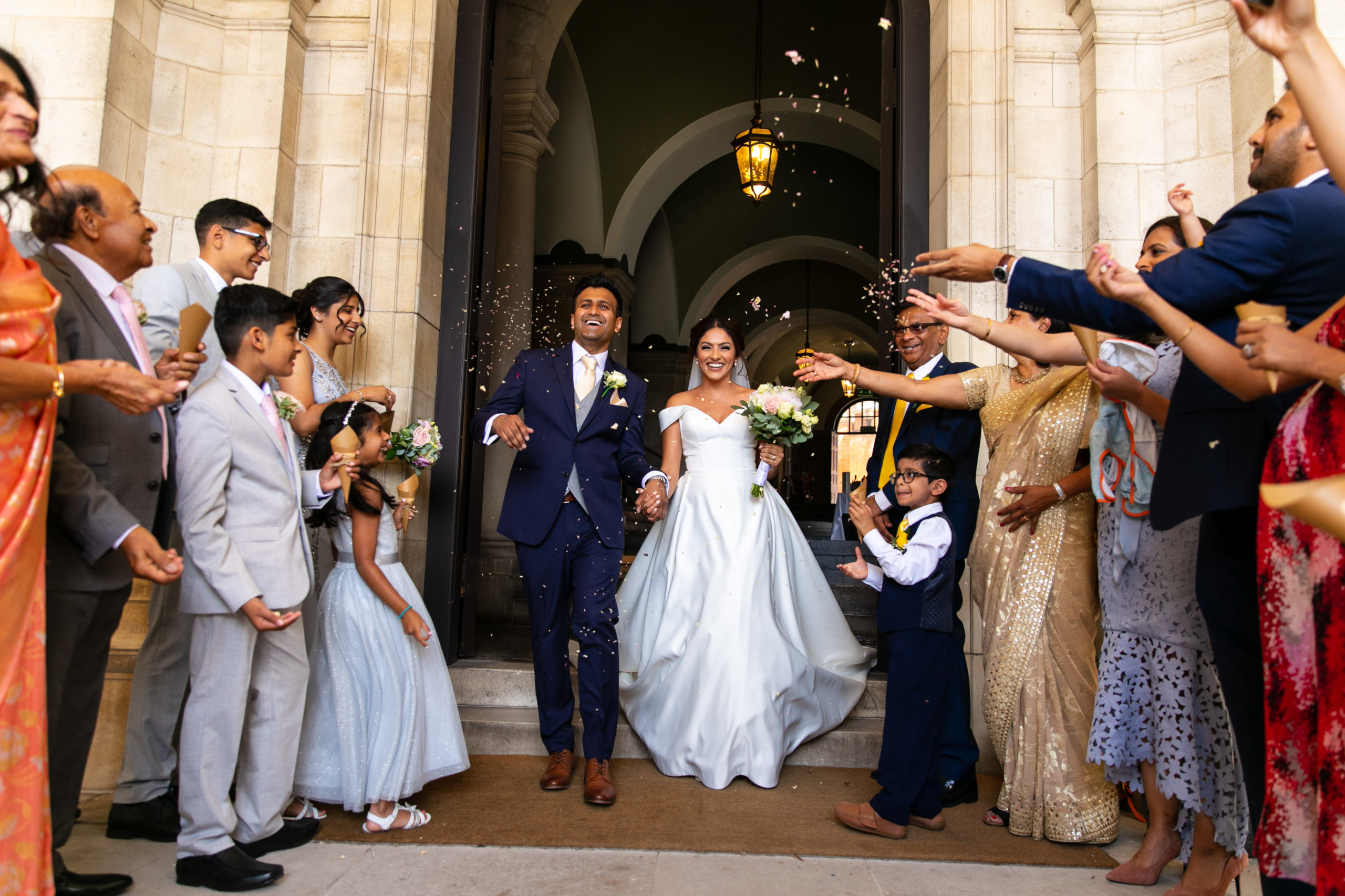 26 Sep

How To Plan A Simple And Memorable Civil Ceremony In Harrow School's Most Popular Licensed Wedding Venue

Harrow School's Old Harrovian Room has become a well loved wedding venue over the years. The room is a beautiful open space with large windows which let in ample natural light, creating an idyllic backdrop to read your wedding vows.

Our wedding planners have compiled a list of ideas on how to create a simple yet memorable civil ceremony for you and your wedding guests to enjoy. Planning a simple wedding does not mean cutting any corners but rather gives you the opportunity to focus on fewer elements in finer detail, meaning less stress and no unnecessary expenses.
Ahead of the day
The most important part to planning any event is the preparation ahead of the day. You want to ensure your guests have all the information they need, and everything is set and ready to go ahead of your arrival.
Invitations
Your wedding invitations should include key information such as parking, accessibility into the venue, and arrival times. Whether you decide to print your own invitations, have them printed for you, or create a website, our wedding planners will be available to help with any information regarding access and parking to ensure you have covered all areas.
Adding your own touch 
Harrow School's Old Harrovian Room sits on the first floor of the War Memorial Building, a Grade II* Listed Building with a beautiful sweeping staircase leading up to your ceremony venue. While the space has many beautiful focal points, some clients choose to add a personal touch. Perhaps some photographs of you and your partner for the welcome table, a guest book or some confetti cones with your wedding date engraved. Our spaces are flexible and can allow you to bring as much or little decoration as you wish. We also have a wooden easel, perfect for displaying your welcome sign.
Booking suppliers 
If you wish to decorate your wedding venue, we have a fabulous list of accredited suppliers who can assist with this element of the day. Whether you are looking for a large floral arch behind your signing table, a white aisle way carpet, or perhaps some hurricane vases and a few floral touches. We have worked alongside some great teams who can transform the room into the perfect bridal setting and will be sure to leave your guests smiling as they enter your ceremony.
Other suppliers you may wish to consider for the day include: a Photographer / Videographer, Furniture hire, Musician, Wedding Cake and Catering. Speak to your wedding planner to assist with these elements of your special day. They will be able to arrange all access times and help with any questions your suppliers may have ahead of the day.
Guest arrival
Your guests will arrive at the War Memorial Building one hour before your ceremony begins. They are invited to take their seats around 30 minutes before the ceremony. Within this window, the groom will have an interview with the registrars and guests have an opportunity to arrive, greet one another, and perhaps sign your guest book.
Once all guests are seated, the bride will arrive at Harrow School's Chapel Terrace where she will be greeted by her wedding planner. Often the bride will have some photographs with her bridesmaids before heading into the venue for a meeting with the registrar.
During your ceremony
Small touches to include during the civil ceremony are always warmly welcomed. If your wedding is booked for a warmer day, you may wish to place some water bottles out for each guest while they are seated. If the weather is not a concern, perhaps a small chocolate… because who doesn't love chocolate! Other elements to consider are music – whether you would like a live musician such as a pianist, or a speaker system to play songs, and any seating reservations you may wish to make for family and close friends.
After the ceremony
The ceremony typically lasts around 20 – 30 minutes. Once you and your partner have said 'I do', you are invited into the Alex Fitch Room for a private bridal photoshoot while your guests are ushered downstairs. This window of time works perfectly for throwing the confetti at your wedding. Guests will gather outside the front of the War Memorial Building, creating a long line ready for your entrance. You may also wish to use this opportunity to capture a group photograph of your wedding party on the stone steps opposite the building.
Drinks reception
At this stage of your civil ceremony, you usually have approximately just over one hour to enjoy a drinks reception, perhaps a cake cutting, some canapes, and a private bridal photoshoot on Harrow School's beautiful grounds.
With these elements covered, you are well equipped to host the perfect simple, yet memorable civil ceremony in Harrow School's beautiful Old Harrovian Room. Our wedding planners will invite you to come for your planning meeting to discuss the finer details of the day, to ensure you feel you have covered all areas and can leave all the logistics to them to allow you to enjoy your special day with your husband or wife-to-be. We can't wait to host your special day.